Reclaimed Wood On Instant Dream Home
A newly formed team of designers and renovators transforms deserving families' homes in the Atlata area in just 12 hours. The series is hosted by Danielle Brooks known from Peacemaker and Orange Is The New Black. Centennial Woods provided reclaimed wood planks for episode 2 and episode 4 and we sent our very own Dillon and Tyson to help with labor on episode 4. Due to the pandemic the renovations were delayed at least 3 to 4 times. It is truly a miracle that Netflix pulled this show off while filming in 2021!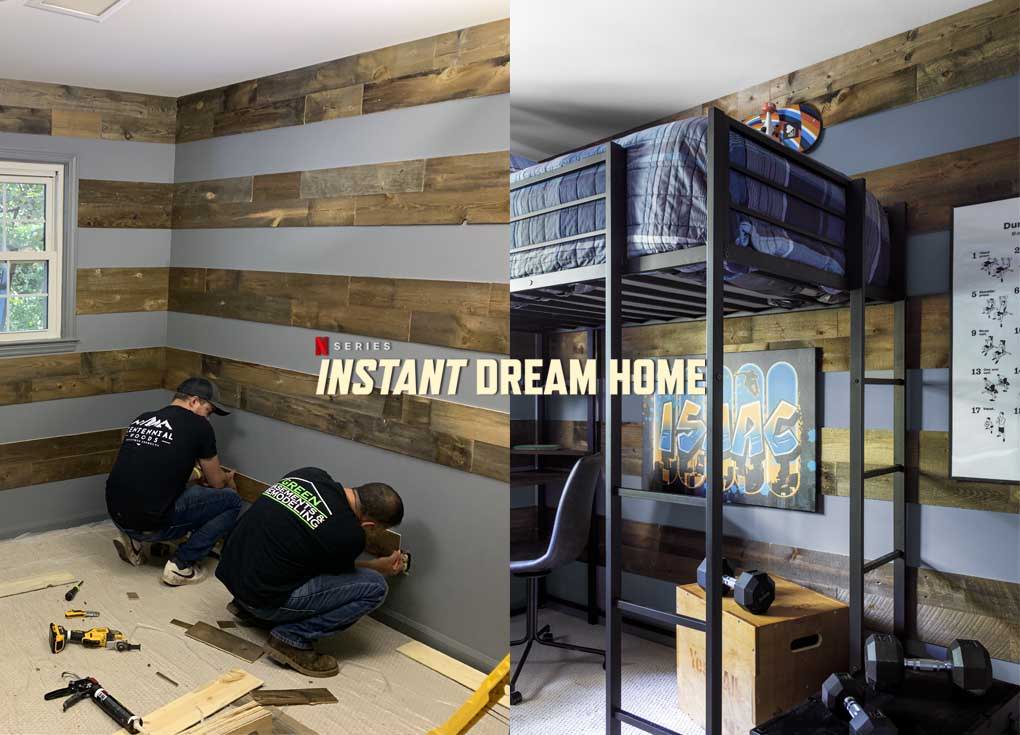 Schoolhouse Rock (E2), transformed a family's home into an ideal location for home-schooling for their five kids. Centennial Woods provided the Sundance White reclaimed wood paneling seen on the fireplace surround. Unfortunately, we were unable to send any employees to help on this episode.
9 Is Enough (E4), featured a couple with a large brood of kids living in cramped spaces. The two girls each got their own bedrooms and the boys shared two different bedrooms. The designers chose our brown, Saratoga reclaimed wood planks for one of the boys' bedrooms. Dillon and Tyson helped to install the wood wall accents. Instead of cladding the entire wall, the design team chose to create horizontal bands of wood around the bedroom walls.
Tyson described the day of installation as "chaotic!" There were people everywhere; production crew, volunteers, vendors, and the hosts trying to interview people while working on all of the different rooms as well as the exterior of the house. To keep the breaker from blowing, production set up battery-powered flood lights in every room. there was a whole team dedicated to changing out batteries on the lights all day. We were thrilled to be included on such a generous and drama-filled show. Thanks to Netflix for the opportunity.
You can follow the hosts and designers on social media:
Instagram - Danielle Brooks, Paige Mobley, Adair Curtis, Erik Curtis, Nick Cutsumpus
Twitter - Danielle Brooks, Adair Curtis, Nick Cutsumpus
Facebook - Nick Cutsumpus
The show reached #4 soon after release and we're hoping for a season 2!
If you like what you saw on the show or are curious about our reclaimed wood products please reach out and contact us.