Purchasing Reclaimed Wood
7 BEST PLACES TO BUY RECLAIMED WOOD?
1) Big Box stores like Home Depot and Lowes – a good choice if you want to start a project quickly. Be aware that some of the products in the big box stores that have "reclaimed wood" in their names aren't really reclaimed, they are engineered to look like weathered reclaimed wood. Another consideration is that wood for sale in the big box stores is likely not eco-friendly since a vast majority of these products are put through the energy intensive process of being kiln-dried.
2) Etsy - has a varied selection of reclaimed wood and barn wood from small to medium vendors. With some of these vendors you may have to wait 2-3 weeks for your order to arrive. Even though kiln-dried wood isn't ideal for the environment make sure the wood you order is kiln-dried, this way insects and mold won't be introduced to the inside of your home. Checkout reclaimed wood on Etsy.
3) Facebook Marketplace – Usually a pretty decent selection of barn wood, reclaimed wood, and pallet wood planks. Most sellers mention that orders are final and that there are no returns. Avoid wood that doesn't specifically mention that it is guaranteed to be free of toxins, chemicals, mold, and insects.
4) Reclaimed Wood Suppliers – If your city has some suppliers this is a great first step in picking out wood planks in person. If you type "reclaimed wood" into Google one of the first results will show a map of local suppliers. Be sure that whichever supplier you buy from doesn't get its wood from sources that contain chemicals, mold, toxins, insects, or in the case of barn wood exposure to animal waste.
If you are considering buying reclaimed wood online from a supplier do your due diligence. There are many online reclaimed wood companies that act as the middleman between you and the source of the wood. Some clues are:
- lack of certifications from organizations like the Forest Stewardship Council or Sustainable Forestry Initiative. These types of organizations require companies to maintain a chain of custody to prove the source and quality of the wood.
-Greenwashing: claiming that products are eco-friendly or sustainable without linking to certifying organizations.
-False claims: watch out for statements like "voted #1 in customer service" or "America's #1 choice." If you see claims like this make sure that they are backed up and linked to legitimate associations like the Better Business Bureau or Consumer Reports.
-If you see sale countdown clocks, or limited supply warnings on websites this is often a sign that the website is operated by resellers that charge more than necessary for reclaimed wood products.
-Fake reviews on websites are unfortunately a part of modern day life. Check for legitimate customer reviews on Google or third party platforms like Amazon, Etsy, or Wayfair.
-No physical address, all legitimate companies with a manufacturing facility have a physical location. If a website doesn't list a physical address then buyer beware. Some less than reputable companies will list an incorrect address to skirt around this issue so be sure to enter the address into Google Maps and checkout the company using Street View to see if the company actually exists.
5) Architectural Salvage Companies – These outfits remove historical wood objects from buildings before they are demolished. The most common reclaimed wood items from salvage companies are mantels, doors, beams, and railings. Prices can vary widely but you can find some true one-of-a-kind gems.
6) local demo sites – This method will need some good timing and research. If you hear of building being demolished in your area you can ask permission to remove non-structural wood from the site before it is destroyed. This option is becoming less likely as there are many companies promoting sustainability that will try to reuse anything that is still functional or aesthetically pleasing from old buildings.
7) Recycled Wyoming Snow Fence Supplier – There is a relatively unknown source of reclaimed wood that come from the Rocky Mountain and Midwest region of the United States, reclaimed snow fence wood. These large wooden structures are used in areas with high winds and heavy snow fall. Snow fences can prevent snow drifts from closing highways and limiting access to buildings by directing snow away from roads and access points. The main advantage to this type of wood is that Mother Nature naturally dries the wood to the point that it is nearly devoid of moisture so that it harbors no insect and doesn't need to be kiln-dried; making snow fence wood a carbon-negative product. Centennial Woods is the most established company in this category with hundreds of miles of fences throughout the state of Wyoming that are continually rebuilt and recycled. In fact, Centennial Woods now maintains the largest known source of sustainable reclaimed wood on Earth.
HOW MUCH IS RECLAIMED WOOD?
The cost of reclaimed wood varies based on where it comes from and its quality, but you should expect to pay between $6 - $14 per square foot, which makes new wood cheaper than reclaimed wood. A high-end, specialized wood company can charge up to $25/square foot for precision milled beams and boards sourced from unique or historic locations. On the other hand, a property owner with an old shed might offer reclaimed wood for free if you agree to haul it away. The reason why commercial reclaimed wood is so expensive is the labor involved in cleaning, disinfecting, and milling the boards.
WHAT IS THE LEAD TIME FOR RECLAIMED WOOD?
Centennial Woods wall planks milled from reclaimed snow fence wood are available to purchase instantly online. Custom orders and large orders are generally ready to ship within a month or so. It takes from 7 to 15 years for the boards on snow fences to develop the desired patina and be replaced. Our wood is naturally aged in the high plains and mountains of Wyoming at an elevation of 6,000 feet above sea level or higher. During the summer the sun bakes and dries the boards making them inhospitable to insects. In the Winter the wind and snow carve out the grain of the wood giving it its unique texture and patina.
Once the boards are reclaimed they are hauled to the Centennial Woods facility in Laramie, WY. Production times to process and mill large quantities and custom boards are constantly adjusting based on the weather, road conditions, wildlife migration, and accessibility mandates from the Bureau of Land Management. Contact us for an estimate.
General Information and Sustainability
IS RECLAIMED WOOD SAFE?
Before you bring reclaimed wood into home or workspace make sure that it has been professionally prepared so that any smells, bugs like termites, lead, formaldehyde, or mold has been accounted for. On the other hand, reclaimed barn wood and pallet wood is generally safe for exterior use unless you are using it to create something like a garden planter. Be sure to ask your reclaimed wood supplier if the boards have been heat treated in a kiln to eliminate mold, mildew, and insects. Even with kiln drying the dangers of toxins and lead paint remain so it's a good idea to choose reclaimed wood that is certified by a reputable organization like the FSC or SFI. Learn more about possible contaminants in reclaimed wood.
The safest reclaimed wood is sourced from recycled Wyoming snow fences and is widely used inside homes, businesses, schools, and medical facilities. The natural aging process results in reclaimed wood boards that have been certified for low chemical emissions earning a GREENGUARD Gold certification from UL (United Laboratories) in 2018.
WHAT IS SHIPLAP WOOD?
Shiplap is different from regular wood boards due to how it is milled. Shiplap has rabbeted board edges so boards will overlap one another to create a flush and tight seal. Shiplap was originally used as a waterproofing technique for ships and then repurposed for exterior applications on buildings and more recently for interior wall paneling. Sometimes shiplap boards are installed with an intentional gap between boards - these are called nickel gap boards.
Shiplap is special because it has been a preferred material for many interior designers on HGTV. Often regular wall planks are mistaken for shiplap since both types of boards create the familiar horizontal lines along the entirety of a wall. These days many people use the terms wood paneling and shiplap interchangeably.
WHAT IS A SNOW FENCE?
A snow fence directs blowing snow and is made from either thin wooden slats or plastic webbing that is often colored orange.
A wooden "Wyoming Snow Fence" is completely different. Wyoming snow fences prevent huge snow drifts from forming on highways and rural access roads. These wooden fences are 6 to 12 feet tall and there are hundreds of miles of them throughout the Rocky Mountain region and state of Wyoming. Snow fences make it possible to travel during the brutal winter months along Interstates and other roadways that are battered by hurricane force winds and heavy snowfall.
Centennial Woods® installs and maintains most of the hundreds of miles of snow fences throughout Wyoming. When a section of snow fence is rebuilt, we recycle the old boards and mill them into beautifully weathered planks for interior and exterior use. Watch our video to see how we create recycled lumber products. Our circular process of building/rebuilding Wyoming snow fences has created the largest and most consistent source of sustainable reclaimed wood in the world. Learn more about snow fences on Wikipedia
WHERE DOES RECLAIMED WOOD COME FROM?
Old barns, buildings, factories, gym floors, bowling alleys, sunken trees from logging operations, and recycled Wyoming snow fences are the most common sources of commercially available reclaimed wood. Reclaimed wood boards can be milled into wall/ceiling planks, shiplap, straight-edge siding boards, and more. Reclaimed wood is desirable due to its unique appearance and its scarcity.
HOW OLD IS RECLAIMED WOOD?
Reclaimed wood can be anywhere from a couple of days to hundreds of years old. Recycled pallet wood is generally recycled when it reaches an age of 1 to 5 years. Barn wood is usually reclaimed after 30 years or more. Reclaimed snow fence wood is upcycled after it has been weathered between 7 and 15 years.
IS RECLAIMED WOOD SUSTAINABLE?
Sustainability can be interpreted a couple different ways in relation to reclaimed wood. The two questions are "Is the reclamation process good for the Earth?" and "is the reclamation process able to be maintained at a certain rate?"
As for the first question, most reclaimed wood is not that great for the environment because it must be heat treated in a kiln (a very energy-intensive process) to kill insects, mold, and/or mildew and to sanitize remnants of urine/fecal matter from barnyard animals. Additionally, many of these boards may have been subjected to chemical treatments or covered in lead paint at some point.
To answer the second question, most sources for reclaimed wood are finite. For example, once an old barn is demolished it's usually not rebuilt and if it is the replacement most likely won't be built using wood.
Reclaimed snow fence wood is a truly eco-friendly and sustainable material. Unlike barn wood, snow fence wood is naturally free from toxins, safe for indoor use, and ready to be used in net zero projects. Since the energy-intensive process of heat treating is not necessary, snow fence wood is always a carbon-negative building material (even if it is shipped thousands of miles across the Atlantic or Pacific.) Additionally, reclaimed wood installed inside a home or business can last as long as new wood.
By building, maintaining, and recycling the wooden planks from the snow fences in Wyoming, Centennial Woods has created the largest known sustainable system for creating naturally weathered reclaimed wood.
DOES RECLAIMED WOOD PROMOTE SUSTAINABILITY AS A BUILDING MATERIAL?
Reclaimed wood contributes toward satisfying Credits MR3, MR4 and MR5 under LEED v4®, provided that the source is certified as either FSC® recycled or reclaimed to process your claim for credits. Additionally, as a certified healthy indoor air product our planks contribute to International WELL Building Institute projects. Reclaimed Wyoming snow fence wood is certified FSC® 100% Recycled and was certified in 2018 for low chemical emissions (VOCs) for projects like schools, hospitals, and senior centers qualifying for these additional credits under GREENGUARD Gold:
2015 International Green Construction Code
2018 International Green Construction Code
ASHRAE 189.1 2014
LEED v4 – Building Design & Construction
LEED v4 – Interior Design & Construction
LEED v4 O+M: Existing Buildings
LEED v4 O+M: Existing Buildings
NAHB Green Building Standard 2015
US EPA Recommendations for Federal Purchasing
PROBLEMS WITH RECLAIMED WOOD AVAILABILITY FOR BUILDERS & CONTRACTORS
Limited or unreliable sources of reclaimed wood like barns or old factories can cause delays in projects. Another issue is lack of consistency from different reclamation locations. Consistent weathered appearance is a major challenge in barn reclamation since barns in different counties and states weather differently year to year, and decade to decade.
Not so with recycled snow fence planks from Centennial Woods. The fronts and backs of snow fences face in the same direction getting the same sun exposure year after year unlike the four walls of barns. With snow fence there is no risk of running out of wood since Centennial Woods maintains hundreds of miles of 12 foot tall fences throughout the state of Wyoming. Snow fence also negates the invisible dangers of reclaimed wood including toxic chemical treatments and animal waste exposure since these planks are weathered naturally, above ground, in the arid and high altitude plains and mountains of Wyoming.
A final consideration with reclaimed wood is the danger of buried nails that can cause injury or destroy tools. Centennial Woods has state of the art equipment and knowledgeable staff who remove nails from our reclaimed wood products.
WHAT IS RECLAIMED WOOD?
Reclaimed wood is wood that has a second use after it has served its original purpose. There can be differences in quality and consistency depending on the source and preparation of the reclaimed wood. Most suppliers of genuine reclaimed wood have limited supplies due to location and sourcing issues. Limited reclaimed wood sources have resulted in a new industry where new wood is engineered to look like it is reclaimed, this is known as faux reclaimed wood or engineered wood. Real reclaimed wood is better than faux because it is made of real, aged wood boards. Generally, reclaimed wood is considered as sustainable as fast-growing bamboo..
To learn all there is to know on this subject explore the Ultimate Guide To Reclaimed Wood.
WHAT ARE THE MILLING OPTIONS FOR RECLAIMED WOOD?
Colors, Finishes, and Installation
CAN I SPECIFY A COLOR RANGE?
Many reclaimed wood suppliers are unable to comply with this request since their wood is sourced from multiple locations. At Centennial Woods, our naturally weathered wood is primarily gray on the front side of the boards and the backsides contain brown, blonde, and cinnamon tones. The colors on our wood are consistent year after year, but some tonal variations can occur and are to be expected.
Custom color sorting is offered for an additional charge. Keep in mind that very specific color requests can extend the lead time of your order.
DOES RECLAIMED WOOD CHANGE COLOR OVER TIME?
The color, hue, and patina of reclaimed wood will change slightly year to year; especially if used as exterior siding. Exterior walls facing south (in the northern hemisphere) will change more quickly due to direct sun exposure. Reclaimed wood exposed to the elements should be sealed or treated with a waterproofing agent. Make sure to spot test any kind of sealant or treatment to make sure it doesn't adversely affect the appearance of the boards. You can stain reclaimed wood if it darkens with age due to oxidation by adding tint to a sealant – again be sure to spot test before applying to an entire wall. Look through some projects with reclaimed wood to see all the types of variations.
DOES RECLAIMED WOOD REQUIRE MAINTENANCE?
Some reclaimed wood products do require occasional maintenance. Most wall paneling made from reclaimed wood will not require any special care. There are limitations to where reclaimed wood can be installed based on fire codes and humidity levels.
Reclaimed wood milled from snow fence is generally a maintenance-free product. We do make recommendations for certain situations like exterior siding or wall paneling in a humid environment like a bathroom or pool house; these areas should be coated with Centennial Seal™ to prevent moisture saturation that can lead to warping or expansion.
NOTE: DO NOT use any sealants without spot-testing on a spare piece of your reclaimed wood. Most sealants will turn reclaimed wood a very dark brown or gray.
Expect the color and texture of reclaimed wood to change when exposed to sunlight and the elements, especially for exterior applications.
Additionally, we recommend applying Flame Stop II® to planks used in commercial and residential projects like fireplace surrounds to meet local fire codes.
How Do I Install A Wood Wall?
There are 4 basic steps, for full instructions visit our handy guide
Step 1: Establish a horizontal (or vertical) reference line for the planks
Step 2: Align the plank to the reference line and affix to the drywall with brad nails and adhesive
Step 3: Repeat step 2 until you reach the edge of the wall
Step 4: Trim final boards to the edges of the wall
View video instructions: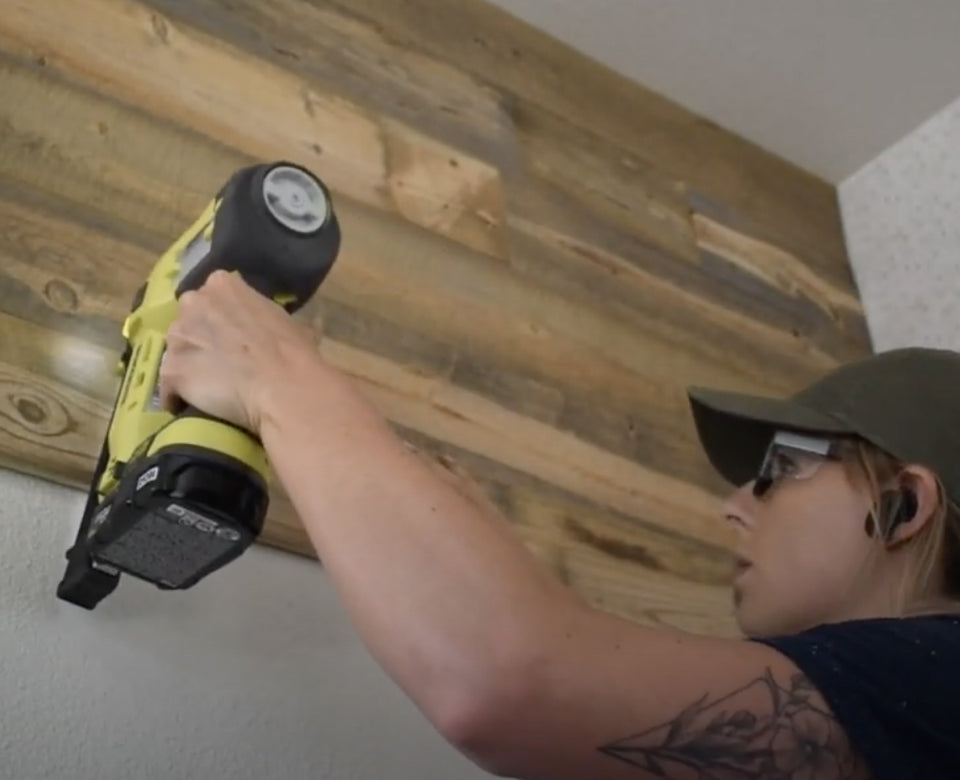 Easy Installation
Easy Installation
Barn Wood Wall Installation for All Ability Levels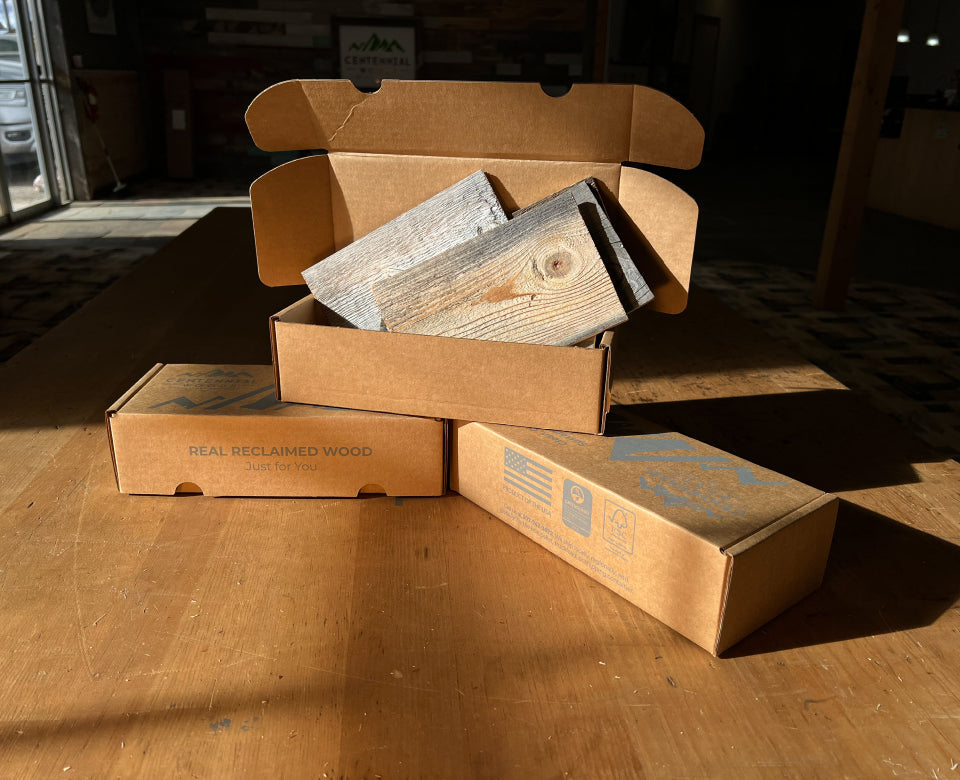 Free wood samples
Free wood samples
Order free samples of all our products and finishes before you start your project
Need more information?
Talk to a Reclaimed Wood Expert at Centennial Woods
СONTACT US