WOOD ACCENTS ON HOUSE EXTERIOR
An alternative to choosing the best color for your house's exterior is to choose eco-friendly reclaimd wood containing shades and hues of your favorite colors. Explore 19 exterior accent wall ideas using Centennial Woods' siding in residential and commercial settings.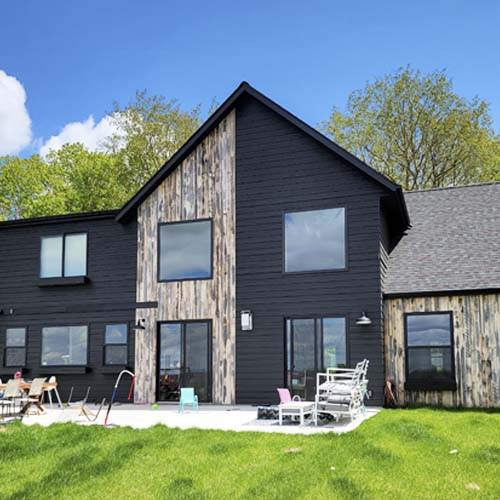 CUSTOM FINISH
This design is a great example of using contrast to create an interesting look for your home. Exterior accent walls using recycled Wyoming snow fence planks in combination with Shou Sugi Ban (charred wood) siding creates a unique, natural, and striking look.
---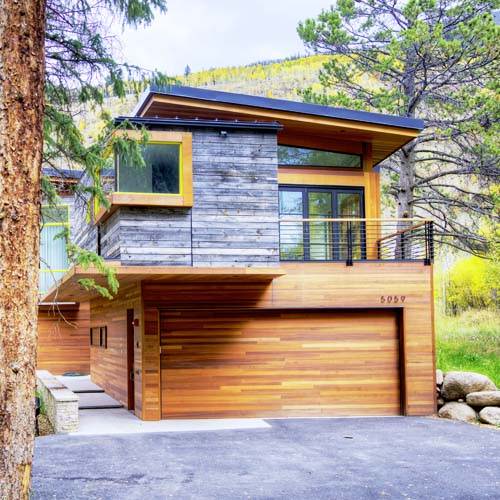 #2 COLORADO MOUNTAIN HOUSE IN VAIL
LARAMIE FINISH
The cantilevered geometric sections of this ski home use grey reclaimed wood as cladding. The stained and sealed wood for the exterior siding and garage door compliments the weathered wood in this stunning setting. Painted neon window trim adds a modern pop to this Colorado gem.
---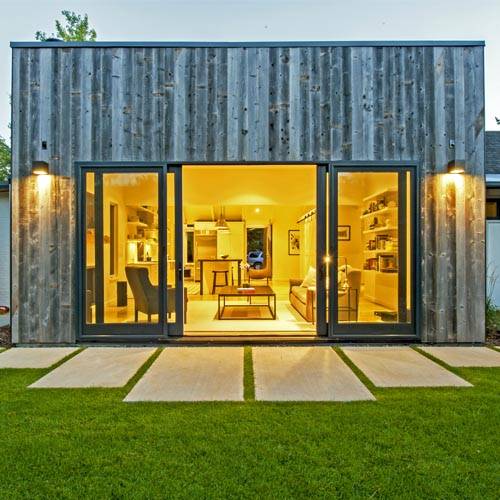 LARAMIE FINISH
A post WWII L-shaped ranch home was updated for the 21st century. Dale Hubbard of Surround Architecture painted the existing red brick with white paint and clad the 400 s.f. addition in the back of the house in Centennial Woods' recycled Wyoming snow fence planks.
Read more about this project in Boulder, CO by Surround Architcture in 5280 magazine.
---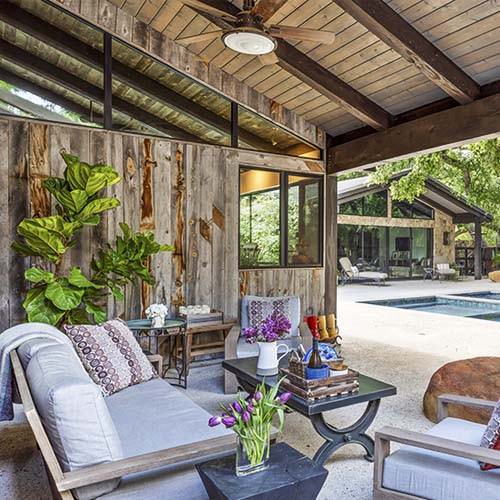 CODY FINISH
This dreamy outdoor living space in Malibu, CA was designed by Hayne Architects. The multicolored reclaimed wood wall feels like an extension of the trees in the surrounding environment. The wall also matches nicely with the planks in the ceiling of the covered porch ceiling.
---
CODY FINISH
In another Boulder project, Surround Architecture cleverly uses reclaimed wood as a façade accent on the street-facing walls. These "windows" frames accentuate the height of the building through its 3D structure and multicolored wood patina. This creates a memorable visual theme for this multi-family development.
---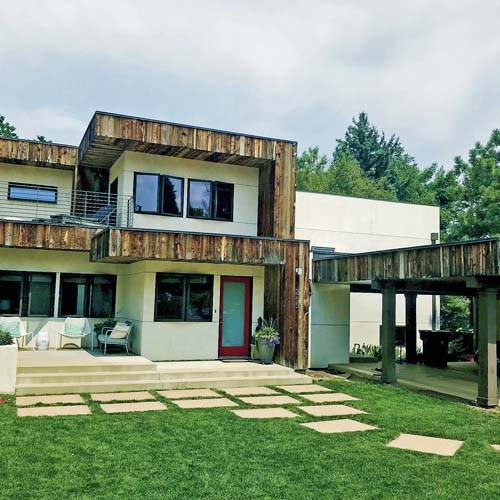 CUSTOM FINISH
A flat roof home with a rectangular theme is made more appealing with weathered wood accents. Reclaimed wood panels are extended below the roof line for visual impact while the same boards are extended as soffits to make this design reminiscent of tree trunks spied through a forest.
---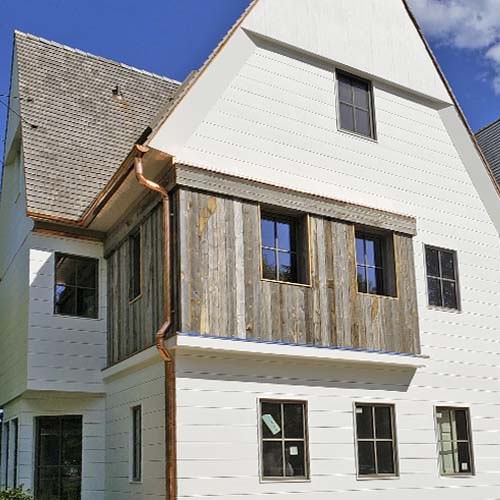 LARAMIE FINISH
What to do when you want your East Coast home to stand out in the neighborhood? Use recycled Wyoming snow fence planks in place of driftwood. By only using reclaimed wood on 2 walls makes a bold statement through restraint.
---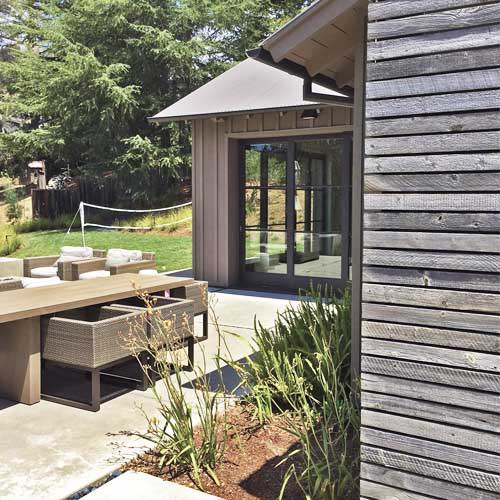 LARAMIE FINISH
Reclaimed wood doesn't need to be affixed to the house to act as an accent. Planks can be used as a partition, fence, or as part of a yard structure used to hide things air conditioning units, utility boxes, or dumpsters. Since applications like these are not siding, the planks can have gaps between them adding to their visual interest.
---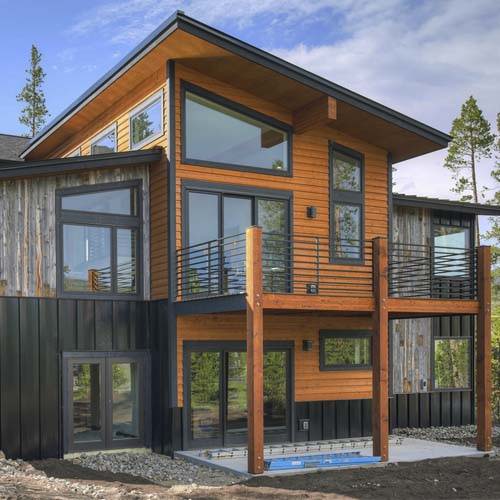 CODY FINISH
Combining new and reclaimed wood with metal gives a contemporary styled home a way to stand out from its environment. This home grounds itself with the black metal around its foundation and frames its brightly colored new wood cladding with weathered wood accents along its side.
---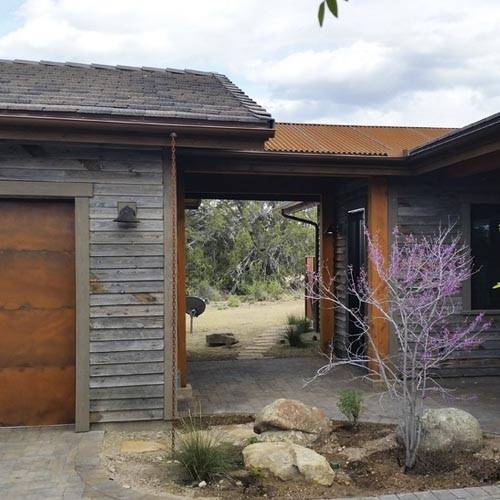 LARAMIE FINISH
This exterior update by Capistrano Homes and Landcaping is one of our favorite examples of how to update the exterior of a 20th century ranch home. Replacing aluminum or vinyl siding with Centennial Woods' reclaimed siding creates real curb appeal; especially when paired with an aged metal garage door.
---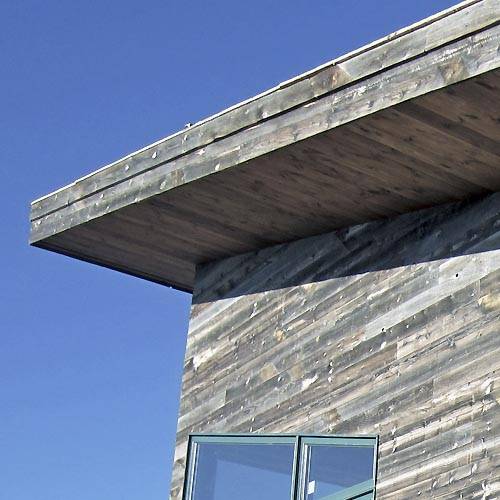 #11 RECLAIMED WOOD SOFFITS & FASCIA
CUSTOM FINISH
Sometimes the smallest of details can make the biggest impression. By using reclaimed wood for the soffits and fascia a monochrome exterior becomes much more interesting.
---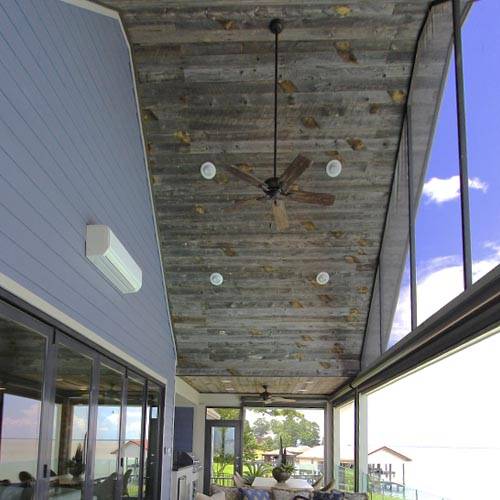 CODY FINISH
This home along the Florida coast features a lanai with a custom vaulted ceiling. Recycled Wyoming snow fence boards look right at home in coastal and nautical design due to its resemblance to local driftwood.
---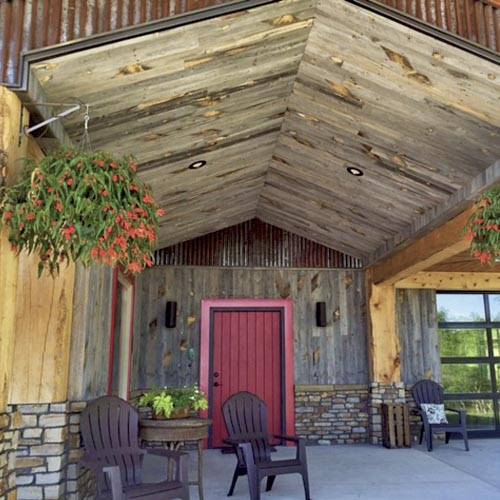 LARAMIE FINISH
This home in Casper, WY has little bit of everything – aged corrugated metal, new wood, distressed wood, stone, and a modern retractable garage door for an indoor/outdoor living room. The reclaimed wood ceiling over the front porch blends nicely with its surroundings while drawing attention to the way it is installed perpendicular to the metal siding.
---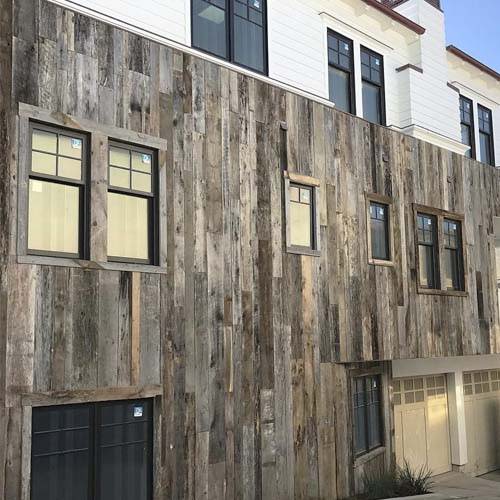 #14 COMMERCIAL RECLAIMED WOOD ACCENT WALL
CUSTOM FINISH
Multi-use developments have become commonplace in urban and suburban communities. A great way to make a development stand out is by incorporating an unexpected design element. In this case the reclaimed wood siding on the ground level installed vertically contrasts nicely with the clean, white exterior of the upper stories.
---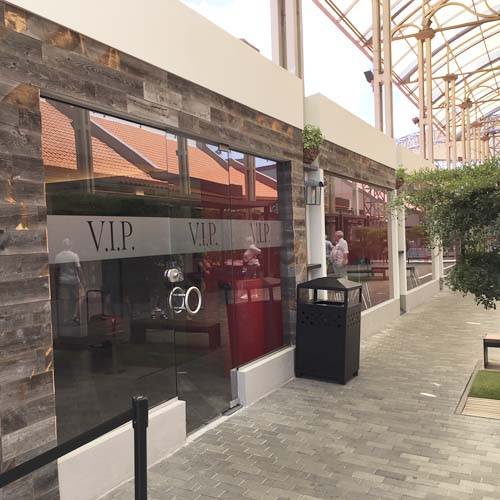 #15 AMERICAN WEST IN ARUBA
CODY FINISH
This outdoor mall in Aruba chose reclaimed wood from Wyoming as an accent to its monochrome storefronts. By extending the reclaimed wood window frame accents from the exterior walls the shops become more inviting for shoppers.
---
CODY FINISH
Reclaimed wood exterior accents are now part of modern home construction. These California prefab housing units use weathered wood to soften the hard angles and intense colors of their exteriors. Learn more about Atwater Village by LivingHomes.
---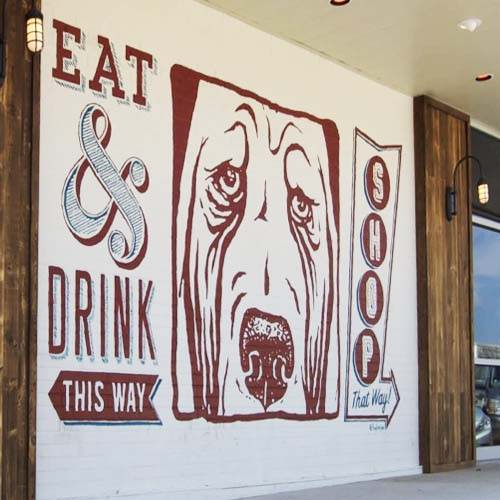 #17 BLAKE SHELTON'S OLE RED
CUSTOM FINISH
Shou sugi ban custom finished boards frame this this iconic restaurant's mural in Toshimingo, OK. The wood ties the outside of the restaurant to the inside by using the same finish to clad the musical stage on the inside.
---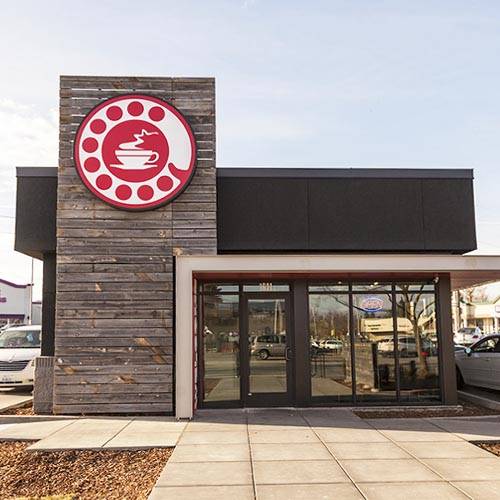 CODY FINISH
The exterior reclaimed wood accent wall against the dark wall allows Wake Up Coffee company's logo to really stand out from a distance. The warm grey boards soften the angles of this commercial building and makes it more more earthy.
---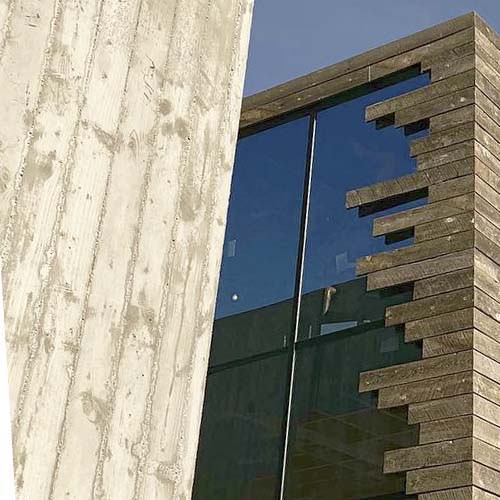 LARAMIE FINISH
Thinking outside the box when designing the outside of the box. These large, floor to ceiling panels of glass receive an unexpected framing style. The cool, modern look of the glass is tempered by the warm tones of the reclaimed wood planks making this commercial project something that demands attention.
Check out our reclaimed wood photo galleries for more inspiration.
Centennial Woods maintains the largest source of sustainable reclaimed wood in the world. We have a continual supply of wood ready to ship anywhere in the world, year after year since 1999.